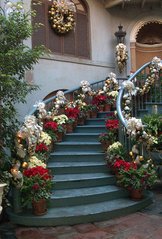 The fact is, the real estate market slows during the winter months. However, there are many reasons why selling your home during the holidays can benefit you regardless of the market and seasonality. Here are 6 great reasons to sell during the holidays.
1.) People who are home shopping during the holidays are generally more serious buyers. During the winter months, there is fewer homes on the market giving those serous buyers less inventory to choose from and thereby giving you a greater opportunity for a higher sales price.
2.) Buyers are taking time off of work during this time of year so they'll have more time to shop for homes.
3.) Due to tax reasons, there a some who have to get a home under contract before the end of the year.
4.) January is traditionally the time of year that many companies have new employees start, therefore, these new employees will want to get a home before they start their job.
5.) The transaction load for lenders is lighter during the winter months compared to the busier summer months so they'll be able to help get the transaction closed quicker.
6.) Decorated homes will always show better than homes not in the holiday spirit.
Since NOW is a great time to sell, call David today at 281-220-9082 and let's talk about your needs.